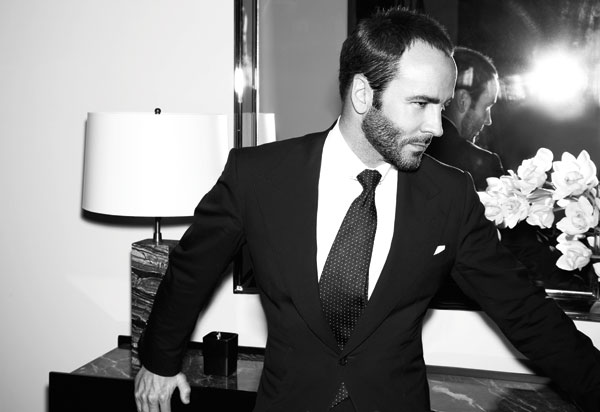 Tom Ford has never been shy when it comes to fisting bold statements. Now while compiling a profile of the candid designer,  GQ has unearthed an old (booze-fuelled) interview where Ford voiced how he believes all heterosexual men should take it up the bum, and waved it in front of his current day face.
In the Q&A, Ford discusses losing his virginity (to a girl at 14, and a guy at 18), before turning the tables and asking his interviewer if he'd ever been with a guy, to which he admitted he hadn't. Tom replies: "Every man should be fucked at some point in his life. You shouldn't force yourself to do it. But it's really not that different than having a massage."
A MASSAGE?! Girl, where you been getting rubbed down, above an all-you-can-eat lunchtime buffet in Chinatown? He went on, "Everyone should try it. It doesn't feel that much different. It's skin. You should do it with someone you like. Do it with a friend who you think is great. It's very easy. It's normal."
EASY? Are we still talking about popping your anal cherry? Although, we will agree that it should be with someone who you think is 'great', not a boggle-eyed thirsty gremlin. Erm, that happened to a friend of ours.
Revisiting his previous quotes, the director of eerie sex crime flick Nocturnal Animals, says: "What was I thinking?" though he still stands by his statement, just perhaps not saying it aloud.
"I think it would help them understand women," he argued. "It's such a vulnerable position to be in, and it's such a passive position to be in. There's such an invasion, in a way, that even if it's consensual, it's just very personal," he continued. "I think there's a psyche that happens because of it that makes you understand and appreciate what women go through their whole life, because it's not just sexual, it's a complete setup of the way the world works."
Well 'vulnerable' is a more appropriate adjective than easy. He concluded: "I think that that's something most men do not understand at all." And we're sure there's plenty of gay men willing to lend their dicks for the sake of education.
[H/t: NNN]