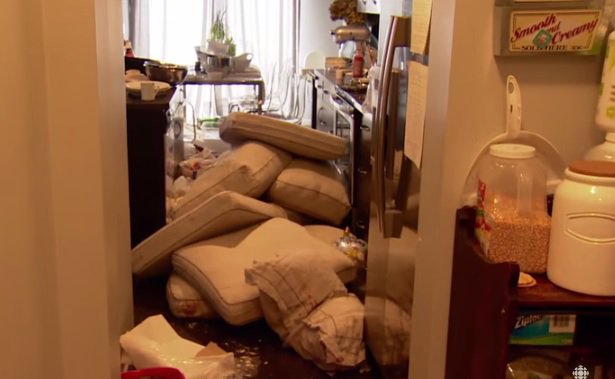 You know when it gets to that point in the chill out when you look around and think, yeah OK, the place is kinda trashed… Well, it still looks like a palace compared to the absolute state four adults left this Canadian couple's home in. They must've just got to that point, realised that a wipe down of the kitchen counter and throwing odd bits of clothing in the cupboard wasn't going to work. Probably because the cupboard was already filled with BBQ chicken wings and empty bottles of poppers.
It's not stated whether the guests were all male, but I can't imagine any women that would be comfortable getting wocked out on a demolished sofa while her drags through the semen all over the floor. Obviously semen on the floor wasn't the biggest concern when there was used condoms and dirty underwear strewn across the apartment, BBQ sauce on the walls and lube basically everywhere. Now THAT'S how you throw a casual soiree. Why do we have a feeling that Michael Barrymore had something to do with this? Thankfully the Kings didn't have a pool.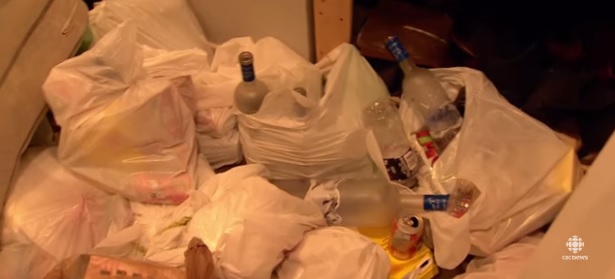 It was obviously a very intimate get-together as only 100 people are said to have been getting down (and extremely dirty) over the weekend-long orgy. And they didn't even stop because they're stamina ran out or because the only place left to fuck was on a pile of trash – but merely because the police closed it down on the Monday after several noise complaints from soul-destroying neighbours. When the Kings returned home there was still 15-20 people clinging on for just one more bump (and grind). You know them ones, when you're like, 'bitch da party is OVAH… Gots to go! SACURITY!'
Air BnB are helping the Kings repair this ratchet mess covered by their insurance policy which covers up to $1 mil in damages.
[H/T: The Gaily Grind]