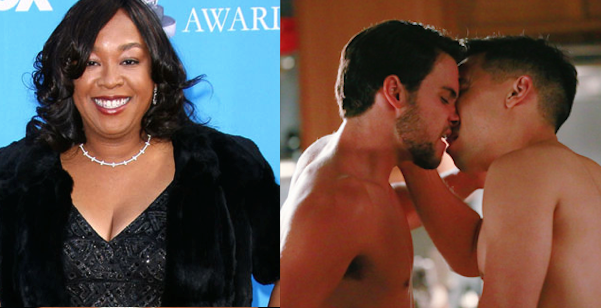 For those of you that don't know Shonda Rhimes, firstly, where have you been? Like, under a rock? She's the creator of epic US dramas Grey's Anatomy, Scandal and now, How To Get Away With Murder. If you've not tuned in to her latest venture in to the world of TV – we highly recommend it. Not only, is HTGAWM an intriguing, sassy well-written piece of television, but it also showcases some of the hottest gay scenes we've seen on television since Philip Olivier starting making out with his student in Hollyoaks: Later.
Scenes like this were few and far between when people of my generation were teenageras – but it's exactly what young teens, a) to crack one out over without having to branch out into porn, and b) need to see in order to know that it's OK to be gay. Making gay scenes a part of television reduce the fear of coming out in countless young gay men and women. But, I'm sure you didn't need me to tell you that…
So, here's what happened when Shonda received the (closed-minded) opinions of an outspoken tweeter…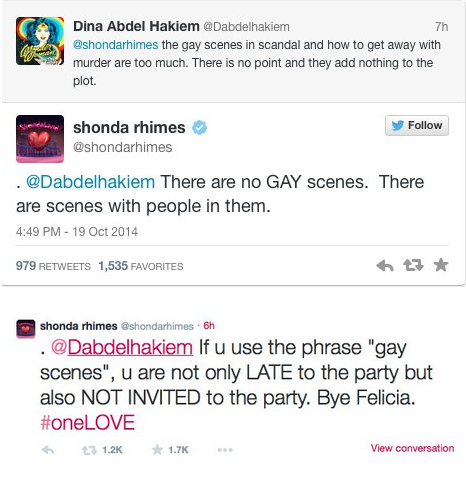 YES, Shonda.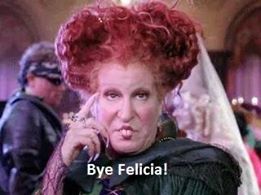 Just one more reason to love the goddess of American TV.
[H/T: NewNowNext]
Other posts you might like:
>> How To… Take A Bitch To College
>> How To… Shut Down A Rude Lesbian
>> Haters Gon' Hate: Owning A Bitch In 140 Characters