WARNING: This post cottons the "f" word ("fabulous")… a lot.
2012 was a pretty good year as it goes, but there's always room for improvement. Obviously we wanna work out more, eat better, take less drugs (*snigger), but there's nothing unusual about that – and certainly nothing as fabulous as the ones we came up with:
1. TALK MORE
Firstly, what we have to say is almost certainly more interesting (and fabulous) than what you have to say. And secondly, nobody truly fabulous has to listen during a conversation anyway.
2. GIVE UP MEN WITH BAGGAGE
We lift nuff weights at the gym without carrying around your shit too. And everybody knows it's much more fabulous to travel light anyway.
3. TRAVEL MORE
Not only was Cocktails and Cocktalk's trip to Dublin such a success that we're going back this year, but we're taking this shit up and down the country. a) Because there is nothing shameful about self promotion, and b) Turning up to random cities with a plethora of stickers, and hardly any clothes is even more fun (and fabulous) than it sounds.
4. MORE PHOTOSHOOTS
2011 saw multiple fabulous shoots, including posing in our underwear in the snow, rolling around on a bed full of money and frolicking near naked on the beaches of Ibiza. 2012 wasn't as fabulous, although we did make more sex videos. Unfortunately we can't use them as our cover photos. 2013 we're going IN!
5. GET A TATTOO (AND FACIAL HAIR)
Tattoos are hot. Fact. (Although feel free to get that one of your ex-boyfriends name layered off). "But what about when you're old and have sagging skin?" Who gives a fuck? We won't still be dancing topless in Vauxhall nightclubs when we're sixty. We hope. And if we are, we'll just be like a more fabulous version of that OAP in a nappy that dances around Heaven. We also wanna grow a bit of stubble. I'm 20-fucking-3 and have never had anything but whiskers on my face, after seeing David Beckham – I think everyone agrees facial hair can be totally fabulous.
6. DATE MORE
We definitely had enough sex in 2012 (despite the dry spells), but there were nowhere near enough dates. A wise man once wrote: "Promiscuity is dead. Unfortunately, so is romance." Yes, that was me. What? I wrote it on a status. But it's true. I haven't been bought dinner once since I got over my eating disorder – HELLO? I'M THIN AND FABULOUS BUT I WANNA EAT STEAK!
7. BE MORE OPEN-MINDED
Now I'm not saying that we should all rush out and buy dilators, but trying new things is healthily fabulous. Facials aren't just fun, they're good for your skin. And golden showers don't always taste bad. But, let me get serious for a second.
I have an actual issue. I like a… *holds in vomit* …Taylor Swift song. iTunes tells me that I've played 'I Knew You Were Trouble' seventeen times today. So maybe we should be a little more open-minded in all aspects of our life, not just sex.
8. GET CUT-THROAT
2012 saw the rise of the 'Courtesy Pie' but let me break it to you simple; ain't nobody got time for that. I don't need to read your shit on my News Feed and I'm definitely blockin' anyone that uses the phrase "nom nom nom". Why would you think it appropriate to make a gobbling noise at all, let alone in public is beyond me. THAT SHIT is not fabulous. Save it for your farmyard bedroom fetish fun. I've unsubscribed from eight people this year already – SHOO!
9. GET SCARED
Last year was a big one for finding confidence, we were able to say "Nu-uh!" to men that weren't right for us, took the piss (not literally) and had bad haircuts. But doing things that scare you are what really make you feel alive; 2012 saw sky diving; 2013 has plans for the world's longest zip wire – and perhaps even scarier, approaching boys in bars! Eek!
10. TEACH BY EXAMPLE
It's only one week into the new year and Aezelia Banks has already called Perez Hilton a "faggot". Well you know what Aezelia Banks?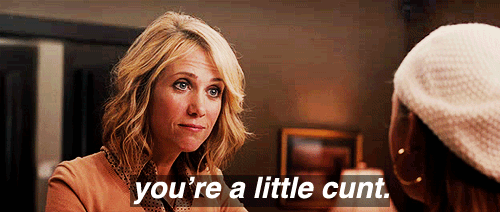 Stupid bitch running her gums – who do you think made you? You would be NOWHERE without us "faggots" shacking out to your music in our underground clubs. So why you throwing shade when you should be throwing yourself into a dentist chair and getting your bruck teeth fixed! So in all seriousness, 2013 should be setting good examples to our fabulous younger generations.